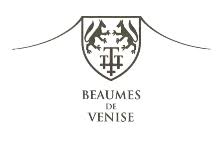 Late 2013, Balméens winemakers decided to create a new emblazoned wine bottle going from Beaumes de Venise to A.O.P Beaumes de Venise (red). Winemakers envisage a coat of arms representing the 4 municipalities which form A.O.P. Beaumes de Venise:
Beaumes: Lafare; La Roque Alric; and Suzette. As a result, the coat of arms containing all or part of the coat of arms of each village was born:
* For Beaumes of Venise:
The 3 golden Taus symbolizing the reunification of the 3 Christian communities of Beaumes: Saint Veran; and Aubune.
* For Lafare:
Their coat of arms is a castle under which passes a wolf. Only the wolf was used in the final coat of arms due to visual issues.
* For La Roque Alric:
Golden azure cross, with four flecks of ermine coloured sand. The cross was chosen and associated with the new Beaumes coat of arms.
* For Suzette:
Firstly, three azure golden bands, the second, golden crawling wolf. Only the wolf was used mirroring the selection from Lafare.
A ring circles the bottle touching either side of the coat of arms representing "The Alliance" between the 4 communities.
The addition of the completed emblazoned bottles was introduced on 27th May, 2015!