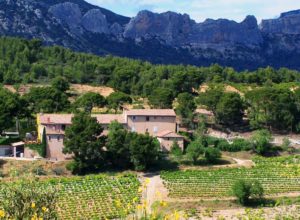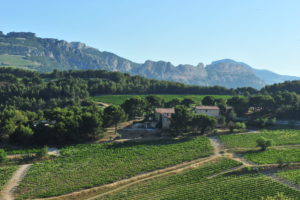 Imagine picturesque villages dotted around rolling hills, winding country roads and peaceful vineyards. Such is the landscape at the Domaine de Durban in Beaumes de Venise. But it has not always been this way. One can imagine many moons ago the earth, sunshine and vines getting together in perfect harmony and deciding this in the promise land.
The Domaine de Durban has a pine wood as a backdrop and looks onto the vineyard. The panorama is magnificent.
Traces of sovereigns are to be found at Durban in 1050 (attached to the Roque-Alric). Years later, the lord of Durban who had an allegiance with the Count of Toulouse, and the Cathare religion, saw his Castel and its defenses razed to the ground. He was given permission to build a fortified farm only, of which no more than a few ruins remain on the site .
It was in 1967 that the Leydier family bought the Domaine. There were then only 13 hectares of vineyards, which included 9 hectares of red grenache and 4 hectares of muscat. We were already producing muscat wine which is said to have been the preferred appetizer of all Popes.
A soft, very aromatic wine which made not only the Domaine de Durban famous, but also Beaumes de Venise .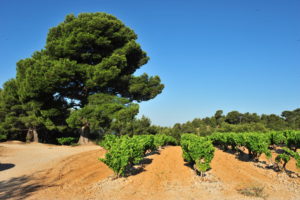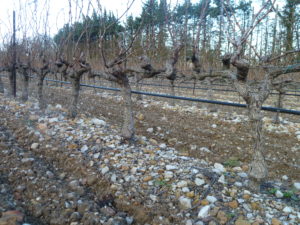 The ground at Durban which is made up of 60% clay cand 40% Trias has a very sunny exposure and a microclimate that helps produce great vintage wines and with regularity. The minerals present in the rich soil give both body and roundness to the wine but it is generously aromatic giving a subtle elegance.
Today, the estate covers 119 hectares of which 56 acres are of vintage, 6 hectares of Gigondas, 30 hectares of Controlled Origin Appellation Beaumes de Venise and 20 hectares  of Muscat Beaumes of Venise. 5.85 hectares of Côtes du Rhône  marketed in bulk plus 8 hectares of Geographical Location Protected ( I.G.P. )
We have fourteen permanent employees working on management:
workers, secretaries and about a dozen seasonal agricultural workers according to requirements.
We share the same quality and tradition ideal with the descendants of Jacques Leydier, his sons Jean-Pierre and Bernard (now retired) and grandsons , Henri and Philippe.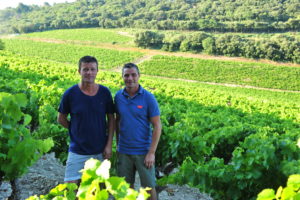 ANNUAL PRODUCTION:
Muscat sweet  Beaumes of  Venise wine ( 100% natural Muscat  ) : 40 000 bottles
Vintage  Beaumes de Venise red  (70%  Grenache, 25% Syrah,  5% Mourvèdre )
" Cuvée Prestige " : 12 000 bouteilles
" Vieilles Vignes " : 110 000 bouteilles
Vintage red   Gigondas   : 30 000 bouteilles
I.G.P.  local  Vaucluse Rosé wine  ( 100% Grenache ) : 20 000 bouteilles
I.G.P. local  Vaucluse white Selected wine ( 50% Chardonay, 50% Viognier ) : 9000 bouteilles
I.G.P. local Vaucluse white wine   ( 100%Viognier ) : 10 000 bouteilles
I.G.P.local Vaucluse  dry white wine  Fruity  of Durban  ( 100% Muscat  ) : 6000 bouteilles
I.G.P. local  Vaucluse red wine (Grenache, Syrah, Merlot, Marselan)  : 30 000 bouteilles
(  All marketed in the  USA)
Marketing:  Vault: 40%, Export 35%, CHR: 25%
Export countries : Belgium, England, Germany, Holland, Denmark, Luxenbourg, Sweden, Ireland, U.S.A, Switzerland, Brazil, Australia, Nez Zealand, Singapore and Canada…