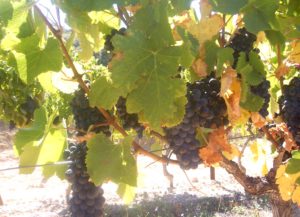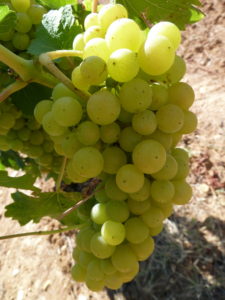 The Grenache
Black grape originally from the island of Sardinia (Italy), it is one of the most cultivated varieties in the world. High quality grape, it gives generous, colourful and powerful red wines important to the ageing process.
The Syrah
Syrah is a French and Swiss grape, it is known for its fruity aroma. Red fruits: raspberry, currant, blueberry and blackberry. It is found in the Rhône Valley, Provence and the Mediterranean.
The Mourvredre
A black variety of Spanish origin, it is often used to enhance the composition and complexity of wines. The addition with other southern grapes allows for a more flexible and affordable young wine.
Muscat small white grape
A white variety of Greek origin, grown since antiquity in most Mediterranean wine producing countries. This variety has a musky aromatic flavour, firm, juicy and very sweet.
The Viognier
A white grape which was originally cultivated in the Northern regions of the Côtes du Rhône, Viognier gives a high quality full bodied wine white, thick, creamy, very fragrant, with floral flavours (violet) and fruity (mango and apricot).
The Chardonnay
A French white grape originally from Burgundy with a very high potential for a quality dry wine with aromas of fresh fruit: (banana, blackcurrant, pear, and mango); dry fruits (almonds and hazelnut) and citrus fruits (lemon and orange blossom).
The Marsanne
The French white Marsanne, native to the Drôme (Montélimar), has long been found in the region of Saint Peray in the Ardèche and Tain l'Hermitage in the Drôme. Marsanne is in most cases associated with Roussanne.
With aromas of dried apricot, acacia, honeysuckle, quench and dried fruit: (almond, hazelnut, walnuts).
The Roussanne

Similar to the Marsanne, the Roussanne white grape is said to be native to Montélimar in the Drôme area. It is also found in the region of Tain l'Hermitage in the Drôme and Saint Peray in the Ardèche. Roussanne is a noble grape variety, producing wines of very high quality, fine, straw yellow in colour, powerful with a remarkable bouquet, in association with other white grape varieties; Roussanne gives an aromatic supplement and elegance that the latter would not have had without it.
With aromas of apricot, hawthorn, honey, lime and peony.