Qualité & Tradition
Wine: more than a profession … a passion!
2018 harvest

 

On this day, Thursday, September 27 the 2018 harvest has come to an end, we are finishing up with the Syrah and Grenache in Gigondas.
As expected this 2018 vintage will be excellent, good sanitary conditions, degrees achieved and the yield is more than satisfactory !!

For the Domaine de Durban, the 2018 vintage promises to be spectacular !!

Hours of opening and welcoming

 Marylène welcomes you from
Monday to Saturday
09:00 to 12:00 and 14:00 to 18h30
(From 1st March to 31st October)

09:00 to 12:00 and 14:00 to 17h30
(From 1st November to 28th February)
The wine cellar is closed on Sundays and Bank holidays.

 

During this time please visit:

Harmonie du Muscat
26, Cours Jean Jaurès
 84190   Beaumes de Venise      Téléphone : 04 90 37 14 15

  Nuances du Sud
Boulevard  Jean Raspail
84190   Beaumes de Venise         Téléphone : 04 90 62 97 92

As from 14th July to 31st August we are open 7 days a week.
09.00 to 12.00 and 14.00 to 18.30


 

LES DENTELLES DE MONTMIRAIL

The Dentelles de Montmirail form part of the Baronnies massif mountain range.

With exceptional views, this is one walk you should not miss. It is an opportunity to stop in any of the neighbouring villages and admire the vineyards noted to be some of the best Côtes du Rhône wines, for example Beaumes de Venise.

Under the sun!

Summer came to see us again, on this day of June 19th  The song of the cicadas kept us company !!
What a pleasure, each year, to listen to this little song that announces the arrival of summer and all the wonderful little moments of relaxation!

SPECIAL VINTAGE

Since 1967, three generations have succeeded one another with the same passion for wine, the same know how and respect for tradition .
From a selection of our best parcels, this wine composed of grape varieties, Grenache, Syrah, and Mouvrèdre is promised a delicious future!
All our bottles are uniquely numbered !

Nature's gift

At the domain, summer seems to be settling in slowly, the vines and the broom rub shoulders, the greenery of the vine and the yellow color of the broom is a lovely  sight to see…

The return of the small pleasures

Spring is coming slowly!  Enjoy a chilled glass of muscat under a warming sun !!

REBIRTH

In this period of gloomy weather followed by bursts of heat, our vines are full of beautiful colors.

At the domain all is freshly colorful that we must enjoy while we can because shortly the summer will set in with its heat and dryness.

Quotations

"A little wine taken moderately is a cure for the soul and body"…

Voltaire

"Wine is the response of the earth to the sun"…

Margaret Fuller

"What we look for in wine: beauty, color, culture, pleasure and the dream"… (G. Jacquenot)

"They say so much nonsense about wine, can we finally say that this liquid does not separate; it brings together, it unites, it lulls us, we the children of men, who have decided to be together and forever"…

Pierre Arditi

"Wine gives colour to those who do not have any: a heart to cowards; zeal to the lazy"…

Fernando de Rojas

"Words have real complexity with wine. In fact, all drinkers are great talkers"… Bernard Pivot

"We must understand that it is not only wine, it's also friendship"…

Louis de Funès

"The grape is the first name, the terrain is the family name"…

Leonard Humbrecht

After reading all these beautiful little texts:…

Just a tiny reminder, the abuse of alcohol is dangerous to your health

Le Mont Ventoux

Following the road that leads to the domain, you will be able to admire the magnificent Mont Ventoux all year round.

Les Dentelles de Montmirail

At the Domaine de Durban nature is always so generous whatever the season, what a pleasure to admire the Dentelles de Montmirail at sunset !! Maybe you'll be lucky when visiting the estate to see this wonderful show !
How to find us

To get to the Domaine de Durban, we advise against using your GPS and suggest you follow the following route (from the village):

In the town center, take the D21 (Caromb, Malaucène);
100m further on, turn left onto Avenue Gambetta D90 direction Lafare
continue for 300m then turn left onto Avenue du Portail Neuf
turn right onto Chemin de Urban
continue 2.5 km through beautiful woods,

and voila – Welcome to the Domaine!!

Hours of opening and welcoming

 Marylène welcomes you from
Monday to Saturday
09:00 to 12:00 and 14:00 to 18h30
(From 1st March to 31st October)

09:00 to 12:00 and 14:00 to 17h30
(From 1st November to 28th February)
The wine cellar is closed on Sundays and Bank holidays.

 

During this time please visit:

Harmonie du Muscat
26, Cours Jean Jaurès
 84190   Beaumes de Venise      Téléphone : 04 90 37 14 15

  Nuances du Sud
Boulevard  Jean Raspail
84190   Beaumes de Venise         Téléphone : 04 90 62 97 92

As from 14th July to 31st August we are open 7 days a week.
09.00 to 12.00 and 14.00 to 18.30


 

Groupe Visiting

For you information, we receive groups up to 20 people. Visiting the cellar is subject to availability, thant you to contact us 48h in advance !!

SERVICE

For your information:

Free wine tasting
Cellar visits according to availability
Payment methods : Credit card, checks and cash
Handicaped access
Parking
Toilets
Delivery ( France)

Export

Please be aware that we do not export to individuals and only ship to france.
Please contact us via email for further information.

A welcoming Terroir

Created and set up by Inter Rhône in 2003, the cellar welcoming quality charter of the
" Rhône Valley , Terroirs d'Accueil " is a bearer of the values of sharing and conviviality of Rhone vineyards. It is the guarantee that the visitors of wine cellars, ambassadors of their territory, benefit from quality service.

This year again the Domaine de Durban keeps it 3 leaves !!

VINEYARDS & DISCOVERIES

We are now a VINEYARDS & DISCOVERIES labeled domain.
Launched in 2009, the label "Vignobles et Découvertes" is a national label, which aims to promote tourism around the theme of wine and vineyards. It was awarded to the territory "Around the Dentelles de Montmirail" in 2013 .

Origins and characteristics of our grape varieties !!

The Grenache
Black grape originally from the island of Sardinia (Italy), it is one of the most cultivated varieties in the world. High quality grape, it gives generous, colourful and powerful red wines important to the ageing process.

The Syrah
Syrah is a French and Swiss grape, it is known for its fruity aroma. Red fruits: raspberry, currant, blueberry and blackberry. It is found in the Rhône Valley, Provence and the Mediterranean.

The Mourvredre
A black variety of Spanish origin, it is often used to enhance the composition and complexity of wines. The addition with other southern grapes allows for a more flexible and affordable young wine.

Muscat small white grape
A white variety of Greek origin, grown since antiquity in most Mediterranean wine producing countries. This variety has a musky aromatic flavour, firm, juicy and very sweet.

The Viognier
A white grape which was originally cultivated in the Northern regions of the Côtes du Rhône, Viognier gives a high quality full bodied wine white, thick, creamy, very fragrant, with floral flavours (violet) and fruity (mango and apricot).

The Chardonnay
A French white grape originally from Burgundy with a very high potential for a quality dry wine with aromas of fresh fruit: (banana, blackcurrant, pear, and mango); dry fruits (almonds and hazelnut) and citrus fruits (lemon and orange blossom).

Beaumes de Venise "Alliance" Birth of a Bottle

Late 2013, Balméens winemakers decided to create a new emblazoned wine bottle going from Beaumes de Venise to A.O.P Beaumes de Venise (red). Winemakers envisage a coat of arms representing the 4 municipalities which form A.O.P. Beaumes de Venise:

Beaumes: Lafare; La Roque Alric; and Suzette. As a result, the coat of arms containing all or part of the coat of arms of each village was born:

* For Beaumes of Venise:

The 3 golden Taus symbolizing the reunification of the 3 Christian communities of Beaumes: Saint Veran; and Aubune.

* For Lafare:

Their coat of arms is a castle under which passes a wolf. Only the wolf was used in the final coat of arms due to visual issues.

* For La Roque Alric:

Golden azure cross, with four flecks of ermine coloured sand. The cross was chosen and associated with the new Beaumes coat of arms.

* For Suzette:

Firstly, three azure golden bands, the second, golden crawling wolf. Only the wolf was used mirroring the selection from Lafare.

A ring circles the bottle touching either side of the coat of arms representing "The Alliance" between the 4 communities.

The addition of the completed emblazoned bottles was introduced on 27th May, 2015!
At the heart of the Dentelles de Montmirail the Domaine de Durban seems to blessed by the gods.
Located on a plateau of a hill overlooking the village of Beaumes de Venise, the Domaine de Durban backed by a pine wood, looks at the vineyard and offers a breathtaking panorama.
It is in exceptional setting that the Leydier family pays full attention to the production of its various wines. 
The land is perfect for the Muscat grape.
The Domaine de Durban vineyard extends over 56 hectares.
30 hectares of Beaumes de Venise Red (DPO).
20 hectares of V.D.N. "Muscat de Beaumes de Venise" (DPO).
6 hectares of Gigondas (DPO).
The Leydier family takes care of the maintenance and preparation of the vines all year round in order to ensure a high degree of regularity in their production.
At the Domaine de Durban, the grapes are harvested as in the past: picking is done by hand so as not to damage the grapes; sorting is done straight from the vine, in order to eliminate the grapes damaged or not fully ripened.
The grape thus harvested is de-stemmed and then placed in vats so that it marinates to release it's nectar before being transferred into stainless steel tanks which control the temperature.
Authentic wines and characters,
The independent Winemaker : respects the land, works his vineyard, harvests the grapes, grows and matures his wine,
bottled in his cellar, perfected in respect of traditions, welcomes, advises, shares with delight the fruit of his work.
The Winegrowers :
3rd generation at the domaine, two brothers,  Henri ( left) manages the winery and the administration and Philippe (right) takes care of the vineyard .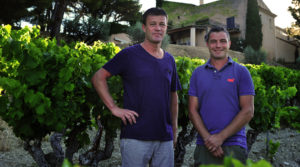 The Domaine de Durban is located on a soil composed of 40% Triassic and 60% clay-limestone, which brings richness and complexity. The vineyard is perched on a hillside and benefits from a very sunny exposure and together with a micro-climate produces wines of great quality.
Our terroir le Trias in Beaumes de Venise
Buried beneath more than 1500m of sediments, this geological layer resurfaces today in various places above ground.Rich in magnesia, calcium carbonate and iron.Earth from Le Trias is easily identifiable thanks to its colors: ochre, yellow and violet.
The symbiosis of terroir and grape varieties offers ideal conditions for a Muscat of great regularity, fruity white wine, and an exceptional superior red wine now known as Beaumes-de-Venise.
Ripe grapes are picked by hand and gently de-stemmed. They are then marinate over a long period of time to give the wine its complex aromas, fine tannins and coated.
The total production being:
1000 hectoliters of Beaumes de Venise red
(about 130 000 bottles) (DPO)
215 hectoliters of Gigondas
(about 27,000 bottles) (DPO)
Muscat natural sweet wine ( mutated wine )
Operation that consists of artifficially stopping the fermentation of natural sweet wines at the right time by an addition of neutral vinous alcohol .
The word " mutage " comes from the fact that we make. The wine mute while it sparkles during fermentation.
The total production being:
450 hectoliters of Natural Sweet Wine
(about 60,000 bottles)